The Greek bouzouki is one of the most exciting instruments I know beside the Norwegian Hardanger fiddle. For a long time I've wanted to learn to play the bouzouki. In 2007 I bought a marvelous one made by the bouzouki maker Babis Kleftoyiannis in Athens.
Learning Bouzouki
The 3-DVD set can be ordered at BouzoukiDVD.com for $199 (world-wide shipping included in the price). If you live in Norway, you can try to order it at Norsk noteservice.
If you are thinking to buy this one but have questions, feel free to mail me. 
Try to read this page in Greek with Google translate … or German … or French.
See also: 
Per Jakob Skaanes
I love the instrument. Now I am learning how to play using an instructional triple DVD called Learning bouzouki. My DVD-teacher is Harry Georgakopoulos. If you are planning to learn an instrument but don't know which one, maybe Bouzouki could be a good suggestion. There are too many people playing guitar compared to other instruments. 
I've been a board member of the Norwegian singer-/songwriter-association Norsk Viseforum, and a musician and teacher. I also have a great wish to see more variety in the instruments singer-/songwriters play at concerts. The sound would be richer and it would be more interesting to look at if there were three singer-/songwriters performing with three different instruments, rather than just three guitars. Therefore I review many instruction DVDs on our website.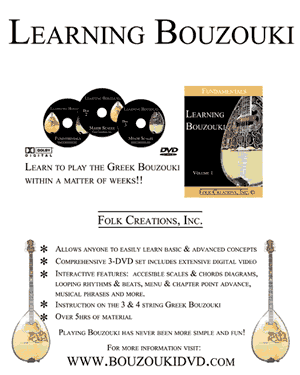 The Learning Bouzouki DVDs are published by Folk Creations inc. The triple DVD offers 5 hours with bouzouki lessons from the most basic how to hold the instrument, how to tune it up to advanced rythms and scales. I will describe the DVDs one by one. This is a very good accomplishment, complete and well composed. The teacher is Harry Georgakopoulos. He speaks English with a clear and slow voice so I (a Norwegian) have no problems at all to understand him.
Relevant for guitar players too
If you don't play bouzouki but guitar only, I think the Learning bouzouki will also be a great help because the bouzouki is tuned DAFC from 1st to 4th string. In other words one tone lower than standard guitar tuning. If you tune your guitar down one tone, you can play along as if you played bouzouki and you'll learn the scales, rythms and ornaments as well. It will be a great way to learn to play Greek music. Another thing I have been thinking about while playing through these DVDs, is how much more exciting the music we compose can be if we just try to incorporate some of these scales and rythms in the music we make, even just in some bridges instead of playing 4/4 og 3/4 for the most. The Greek scales and rythmic «vocabulary» is a musical treasury we should try to make use of. Experimenting with parts of «ordinary» melodies played with some of these scales and harmonies sounds great.
Both tetrachordo and trichordo bouzouki
The Greek bouzouki is two main types. The oldest one has three pair of strings and is called trichordo. The newer one has got four pais of strings, and is called tetracordo. The DVDs covers both 4 string and 3 string bouzouki, but most of the time Georgakopoulos plays on a 4 string instrument. It doesn't have to make trouble for you if you have a 3 string bouzouki because the 1st and 2nd strings on both instruments at tunes identically and most of the playing is done on these two strings.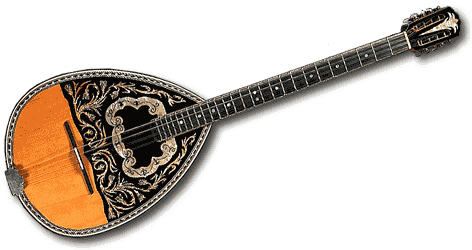 DVD 1 – Fundamentals
The DVD set are divided in the first DVD with "fundamentals". That is how to tune the instrument, how to hold the pick, how to hold the bouzouki, a lot of exercises you will have to manage before you start on the two next DVDs. On the screen, the rehearsals are shown with the camera focusing on the teacher and his left hand is shown on the grip board in a little box so you can see how he plays the exercises. The exercises focus on strenght in your fingers, ability to play fast and precise. This is important for everyone who wants to become a virtuos bouzouki player. Harry Georgakopoulos recommend that you do some of these excercices every day at least 20 minutes. I am a quite relaxed person, so I have played the DVD every time I do the exercices and let him lead me through the rehearsal. (I always tell my students that it is important to practice every day, but I never do it myself. It is really embarrassing.) 
Back to Georgakopoulos, he also explains about the notes on the fretboard and where to find the same notes on different strings. He also demonstrates rythms in Greek music. There is a chapter with definitions and bouzouki terminology on the first DVD – words and names that is important to know in general, and especially when the teacher speaks on the bouzouki DVD. 
DVD 2 and 3 – Major and minor scales
The two next DVDs are more about different scales used in Greek music, what chords and harmonies that belong to the different scales and how to play the chords. It is an enormous variety of scales. As extra material on the second DVD there are 31 rythmic beats that you can rehearse to learn them by heart. I have had lot of trouble playing Greek music because there are so many difficult rythms in Balkan music. Now I have practised with this DVD and I think I will do a lot better next time I play Greek music with other people. I have played the scales and excercises to the rhythms and it has worked well. The DVD 2 contains major scales and the DVD 3 contains minor scales. In the end of both DVDs there are diagrams you can take a look at to repeat the scales and chords if you think they are played a bit too fast on the demonstrations.
On these DVDs there are also music examples you can play along with to practice your scales and rythms. But there are not so many music examples. So when you reach the point where you'd like to practice the Greek rhythms more than to the drum beats on the DVD 2, I think it would be a good idea to find a songbook with a CD (with music examples) containing Greek traditional songs. Then you could play along and rehearse all the exciting rythms and scales. On the music examples Georgakopoulos first plays through the scale in a moderate tempo, then a bit slower afterwards. 
Are you an experienced gitar player or a beginner on a string instrument?
If you have played an instrument before or are starting with bouzouki as your first instrument, you will have no problem here. If bouzouki is your first instrument, just take your time to do the rehearsals. Don't rush. Follow Georgakopoulos' recommandations and spend time doing the excercices. Take a month to practice with the DVD 1 and just watch the other DVDs to know the rhythms and scales, but don't push yourself to play them. You will manage after a while. You'll get problems if you push yourself too hard. Maybe it is smart to spend some time to learn a little about music theory too, so you understand more about what is happening in Georgakopoulos' demonstrations. 
A very good quality with the method here is that they are pretty much focusing on excercises that you will have to do every day to be a good bouzouki player. In the beginning some of you will consider these exercises pretty dull, but after a while you'll realize that they are very inportant. Especially when you can put them together and develop your own play. 
Conclusion
I have no problems to give this my recommendations. It is probably the best instruction-DVD I've seen. Though it costs $225, I don't think that's expensive for about 5 hours instruction. You will learn a lot about the Greek music and culture as well. And the dollar is quite low compared to Euro these days. 
If I wanted to become a real good instrumentalist by the help of an instructional DVD, I would undoubtedly order Learning bouzouki. This one is full of great instruction, exercises and good advices. Though it is a bit more expensive than most other instruction-DVDs, it has no problem defending the price. But I do miss some more songs to play along with to practice the rhythms and scales I've learned from the DVDs. Here I have found a book that contains 25 songs with sheet music. Maybe that one will be helpful. There are also two instruction books available at this site. 
If you buy the DVD and a bouzouki, practice a lot and find someone to play with. The most important to develop yourself as an instrumentalist, is to find someone as soon as possible to play music with in combination with studying this DVD. I have watched the DVD lessons and played a lot in the winter evenings. Now I have arranged som Norwegian traditional tunes on my Greek bouzouki. 
In Norway we have to pay VAT for goods worth more than 35$, and for gifts with value worth more than 1200$. If you are going to order this, ask if you can buy it without the VAT, because you will probably have to pay the VAT when it arrives your country and you won't like to pay double, to both US and your own government. An other idea is to order a gift for your friend. 
About the Greek bouzouki
Here there are lots of stuff about the Greek bouzouki:www.playbouzouki.com. On the website Kalis & Co you can register and get a taste of their advices for free on a web based bouzouki school. But you have to pay to get the real good advices. An article about the bouzouki on wikipedia, just remember that everyone can post whatever they think is relevant on wikipedia. Here are a website with Greek and Balkan scales you can take a look at. Here are a very good one, called Rebetiko – The Roads. Here they explain the logic behind the diagrams for you too. If you click a bit more on this page, you will discover that it has a lot of interesting stuff about greek music and bouzouki, Rebetiko. You can also search for «Bouzouki» on Youtube. You will find lots of nice little pieces of music. 
Irish and «Nordic» bouzouki
On the web you will find lots of websites avout bouzouki, both Greek and Iirish. The article The bouzouki's long journey from rembetika to rock 'n' roll by Paul Kotapish gives a overview of the use of bouzouki in Irsish music and about instrument makers. Irish bouzouki instrument & music guide and Han's Irish Bouzouki Homepage are good. Finally a site about the Greek bouzouki: Ousaks bouzouki-portal. For those who are curious on the Nordic bouzouki/mandola: Scandola. This is an instrument which is made to accompany fiddle and hardanger fiddle and traditional folk songs. It has got a more long lasting, mellow and deeper sound.
(This article was originally published in 2008.)